Event Measurement Questions?
Our trust webinar has officially concluded! We explained to you how using Ofactor technology helps measure and increase employee and company performance while simultaneously crafting high-trust and high-performance environments…but do you still have a few questions on how specifically trust and communication are crucial to creating a comfortable and productive work atmosphere.
We thought you might.
Let's start with how and why we measure trust: Ofactor.
The "O" in the word actually denotes a focus on oxytocin, a chemical in the brain that helps regulate your feelings toward or about something or someone. Dr. Paul Zak, a neuroscientist with 13 years of research and creator of Ofactor, set out to understand how oxytocin, appropriately nicknamed the trust molecule, can change an organization's performance.
We adapted Zak's Ofactor technology to help measure trust levels in our own organization after meetings and events to help us identify what went right and what went wrong for an even greater performance and satisfaction level next time. Now that you know how and know a little bit of why we measure trust, let's dig a little deeper to explore the real reasons we trust Dr. Paul Zak's methods so much.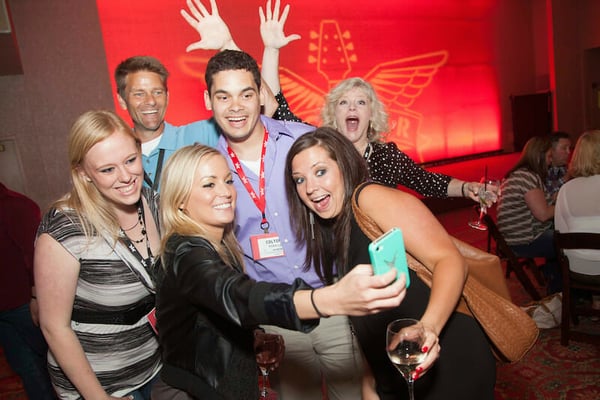 Meetingsnet.com ran an article about the science behind Dr. Zak's methodology and explained the following 8 characteristics as the building blocks of trust.
Building Blocks of Trust
Ovation: "Publicly recognize excellence and extraordinary effort from people in the organization." Awards, team emails, or simple word of mouth recognition can make members of your organization feel appreciated and welcome.
Expectation: "Create challenges that are realistic." The key word is realistic. It's okay to be ambitious, but only to a reasonable point. On the flipside, you don't want employees to feel underutilized, so make sure to communicate about their abilities and comfort levels with assigned projects.
Yield: "Delegate generously to show trust in others". Again, there's no need to put so much pressure on someone. Let different members of the organization engage with one another and mingle with people they're not as familiar with to increase empowerment and communication barriers.
Transfer: "Enable job crafting by giving more autonomy to employees." Members of your organization will feel an increase in trust and a higher dedication to ensuring the job gets done. By allowing this to happen, your employees not only feel like a greater asset to the community, but productivity also increases.
Openness: "Share information and, therefore, a sense of purpose." Communication is key for a reason. Proper and consistent dialogue from management to employees about company goals, problems and overall well-being help promote trust and satisfaction in the workplace.
Caring: "Intentionally build relationships between departments, chapters and managers and workers". This is similar to Openness, yet differs in the fact that in addition to creating a consistent dialogue, you should create it with networks that would not normally interact. Creating a line of communication to all parties involved in something eases communication and increases productivity and overall workplace happiness.
Invest: "Facilitate whole-person growth." Your employees are your greatest and most important investment you'll ever make. Without happy, productive employees, you simply cannot have a happy, productive organization. Focus on each person individually instead of grouping a bunch of people together when discussing company operations. Know and invest in the people you hire. Know and invest in the people you work with. Know and invest in the people you only wish happiness for. That investment is one you know will be positive.
Natural: "Be authentic and vulnerable." Everyone is human. We all make mistakes; we all have highs and lows. Nobody is perfect, even you, so don't pretend to be around your employees. By opening yourself up and allowing the people you work with to see that even the boss slips up every now and again, and that's OKAY, you are making yourself more approachable and opening up another line of trust.
Bishop-McCann's CEO Rob Adams was quoted in an article saying, "I realized that the industry is measuring the wrong thing. Without trust, you'll never have engagement."
As leaders in the meetings and events industry and first in the industry to measure trust to prove ROI, you can trust us when we say that only good things come to those who trust each other.
Read the article on Meetingsnet.com.