Sometimes you just need a little pick me up, especially during a stressful time. The families of children who are being treated in Loyola University Medical Center and Shriner's Children's Hospital in Chicago seemed like they needed a little pick me up, so Bishop-McCann's Chicago office decided to help through the Ronald McDonald House.
Our Chicago office teamed up to spend a day at the Ronald McDonald's House Charities preparing lunch and baking cookies for those with children receiving treatment in the nearby medical facilities. While some prepared menus, others set up the buffet with plates, napkins and silverware. When the food was ready, the Ronald McDonald House coordinator invited the guests to help themselves. Afterwards, they cleaned up and were treated to a tour of the facility.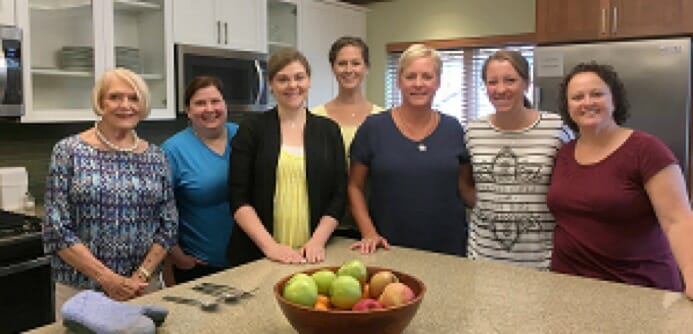 "I loved giving back to Ronald McDonald's House Charities because they give so much to families in tough situations. We had quite a few people boxing up the lunch to take back to the hospital. Knowing the families had a home cooked meal to get them through their long day was extremely rewarding! We got to talk with some of the residents and hearing their struggles and the appreciation they had for the Ronald McDonald House was incredible. I am looking forward to the next time Bishop-McCann and Ronald McDonald House work together!", said Anna Eck, Bishop-McCann Program Coordinator in Chicago.
Helping others feel better, even if just by providing a sweet snack, is one way Bishop-McCann likes to give back to the communities that keep on giving to them.
About The Ronald McDonald's House Charities
Helping a sick child fight their illness takes a big enough emotional toll on a family. Adding a financial strain can make it all almost too much to bear. Ronald McDonald House Charities of Chicagoland & Northwest Indiana (RMHC-CNI) can help address those problems, whether they involve housing that's near a hospitalized child, the expense of staying together in another city or even getting basic medical care in a vulnerable community.
About Bishop-McCann
Bishop-McCann is one of the industry leaders in producing meetings, incentive programs and corporate events worldwide. Headquartered in Kansas City, Mo., with offices in Chicago, San Francisco and Minneapolis, Bishop-McCann's mission statement: We create joy!
The Just Right Projects
Here at Bishop-McCann, we spend most of our time producing corporate events, meetings and incentive trips for clients, but we also invest our time and money by giving back to the community through The Just Right Projects. These projects are a part of the charitable division of Bishop-McCann dedicated to providing just the right resources at just the right time. Our dedication to providing these resources aid efforts that empower youth, foster hope in healthier living and reward and encourage passion for the arts.