As the event industry adapts to the COVID-19 pandemic, we continue to look for new ways to keep the attendee experience alive and keep teams connected as many meetings are being presented virtually or are being postponed.
Since most of the country is under stay at home or shelter in place orders, organizations and their employees are working from home. This new working-from-home environment has many people feeling isolated and disconnected from team members. So how do you make attendees for virtual or postponed meetings still feel engaged, valued, and connected from home? We see a trend emerging with meeting boxes, and these can be done in several different ways.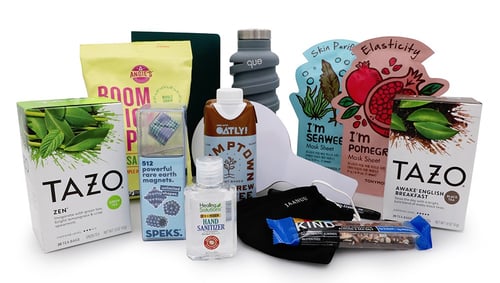 For Meetings Moving to a Virtual
A day or two prior to the start of your virtual meeting, schedule to have a meeting box delivered to the attendee's home addresses. Fill this box with items that make attendees feel comfortable and ready for a full-day (or more) meeting in front of their computer.
Ideas for Virtual Meeting Gifting
Include a welcome letter from a VIP or special guest that will be part of the virtual meeting
Gourmet coffee or tea
Scented candle (calming scent)
Blue light blocking computer glasses
Branded sweatpants (quarantine cozy essential)
Add Suspense with Boxes that Say "Don't Open Until"
Include snacks or gift cards for take out
Bubbly water to cheers the end of the meeting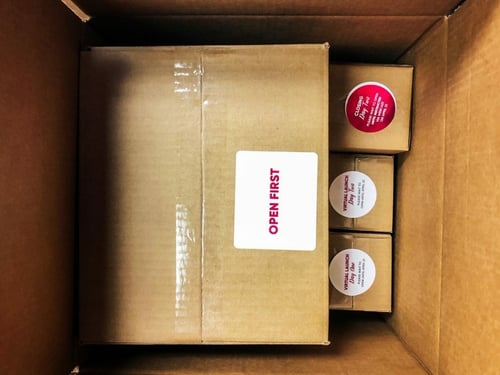 For Meetings Postponing to a Later Date
A virtual meeting box is still a good opportunity to keep the team connected. A gift can share a sense of unity and excitement for what will come later this year when the meeting can be hosted in person. Decide on a date for a meeting box to be shipped out, and fill the box with items that are useful for the new work-from-home lifestyle.
Ideas for Postponed Meeting Gifts
Include a letter to the team that inspires and creates excitement for what's ahead
Cozy socks (we like these!)
Snacks (potentially provide snacks that are local from the original meeting city)

Popcorn, chocolate, nuts, beef jerky, etc.

Branded water bottle
Gift cards

Target, Starbucks, Grubhub, McDonalds, etc.
We have found that all of us could use some positivity and joy in our lives right now, and these meeting boxes can be so impactful in doing that. It's also important that organizations still get their meeting messages out from the original meeting, and this is a fun and engaging way to do so!
Reach out to us if you have any questions about virtual meeting gifting!