Wouldn't it be amazing to find a virtual event activity that kept your attendees immersed in your event, gave back to worthy causes, and was just plain fun? Well, guess what. There is such a fantastic thing, and it's called the Great Virtual Giveback Game Show! Our team was lucky enough to preview this incredible activity created by Impact 4 Good, and we loved it (as you can see from the picture below)! In this virtual quiz show, your attendees work to answer questions—either individually or as teams—to raise awareness for your company's core cause, such as supporting literacy programs, recognizing frontline essential workers, supporting STEM education, or the growing hunger in our communities. Impact 4 Good is able to create an emotional connection to the community, and the real winners become the community! All your attendees have to do is use a video conferencing link in which a facilitator will guide them through the fun-filled experience of playing games to help giveback.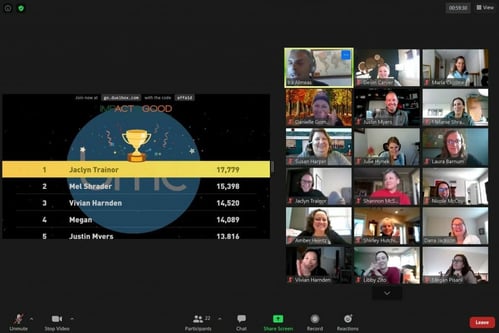 Once your attendees have logged into the video conference, contestants can scan the QR code provided that will allow them to participate in the quiz show. While playing, participants will be able to see their points and where they stand on the leaderboard. There are also several different styles of questions that can be asked. Not only do they have the normal, multiple-choice trivia questions you may expect to see from a quiz show, they also have questions that require players to buzz in. Whoever buzzes in the fastest has the first opportunity to try to answer the question correctly. Could you buzz in the fastest to answer, "Where is the only place that the US flag is never raised, never lowered, and never saluted?" (If you said, "the moon," you'd love this game show.) They even have a game where everyone competes by running their fingers like little legs on their screen as fast as they can in a "finger sprint race!"
One of the best parts about the Great Virtual Giveback Game Show is how customizable it is. The entire look and feel of the game can be created to reflect your organization. From logos, images, and colors to the questions asked, Impact 4 Good makes sure that the experience is one that is unique to your brand. The customization is so in depth that you can even allow each of your participants to select the charity of their choice to appear by their name, so everyone knows who each person is playing for. Or if there is a large group of people, everyone can split into teams who then choose the cause they will be playing for. You can even have the option of requesting a "thank you" video from the organizations you choose to donate to, and the video can then be played to your entire team at the end of the game.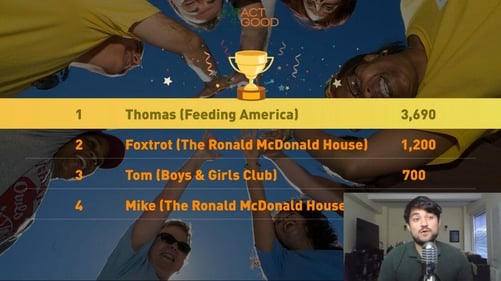 Not only does this game show give to amazing causes who need your support and bring your team closer together, but it also elevates your virtual event. At this point, we all know how difficult it can be to reduce virtual fatigue, especially when many people are on their computers day in and day out. But with this fun quiz show, people can get a break from their daily routines while feeling good about helping people in the process.
If you are interested in having the Great Virtual Giveback Game Show included in your next virtual event, learn more on Impact 4 Good's website. Want to give back but looking for something a bit different? Impact 4 Good has tons of virtual activities to engage your attendees and help support worthy causes. Find out about their various giveback opportunities.