After over a year of conferences viewed through a computer screen while wearing pajama pants, I think I speak for almost all event planners when I say that getting back to in-person events is a very exciting prospect. So when I was able to travel to Las Vegas for WEC 2021 last month, I was more than ready to attend a live event. While this year's WEC was different from past experiences (temperature checks, health surveys, social distancing, pre-packaged food, etc.), it still felt fantastic to enjoy in-person interaction. But even more important than the face-to-face connections made was the wealth of information I obtained while attending this event. Below are my top ten takeaways: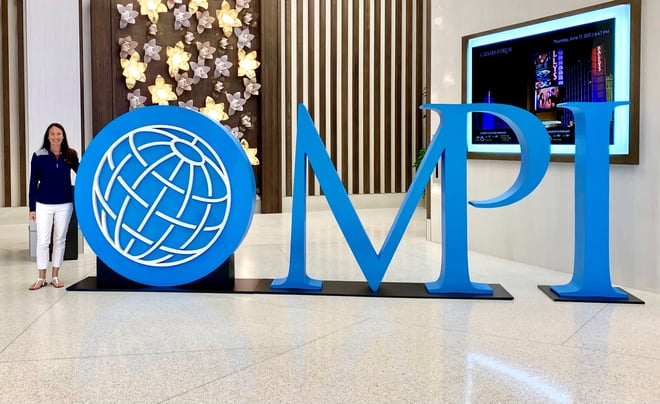 Create Hybrid Experiences that Bring Both Audiences Together
One of the most important elements to keep in mind when planning a hybrid event is the fact that you must cater to two separate audiences. It can be challenging to bring these two attendee types together when they could potentially be worlds apart, but it is important to the success of your event. So remember to create experiences that connect all attendees. One example that was discussed at WEC was a hybrid event team builder in which an in-person sandcastle building activity is utilized. While the live audience builds sandcastles, the virtual audience votes for the tools that builders can use. This method brings both attendee types together in a creative, engaging way.
Incorporate a Hybrid Trade Show
Another aspect to consider when planning your hybrid event is a trade show. But you can't simply create a typical trade show; you want to create an environment in which both your in-person and virtual attendees can interact with. One way to make this as engaging for your virtual guests as your live is to have people on site who are devoted to taking Zoom calls. In this way, even if your attendees are at home in their fuzzy slippers, they can still experience the trade show in a meaningful way.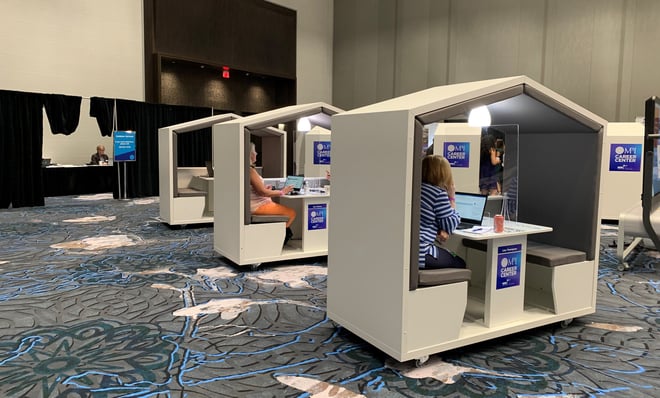 Keep in Mind the Five Keys to Hybrid Success
One session that I attended on strategies for hybrid events gave these five keys for having a successful hybrid event: 1) Define objectives of the event, and prioritize goals for the online and in-person experience. 2) Determine the appropriate platform and technology (Zoom, live stream, microsite, etc.). 3) Consider the venue (room setup, bandwidth, etc.). 4) Incorporate several elements for engagement (host/emcee, entertainment). 5) Select a production partner. Keep these tips in mind when planning your next hybrid event to ensure it is a success.
Know When to Engage Your Audience
As event planners, we know how important engagement is when it comes to our events. Most of us have also noticed that due to COVID, attendee attention span is even shorter than it was before. One session brought to light two interesting statistics: every four minutes, you need to include engagement in a virtual meeting, and every ten minutes, you need to include engagement in a live meeting. If you aren't engaging your attendees in some way at these intervals, then you are most likely losing your audience. Keep these stats in mind when planning your event to get and keep your audiences' attention.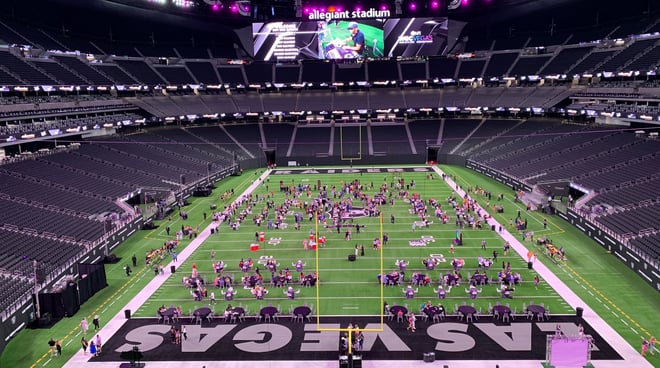 Focus on Education and Networking
Another interesting note that was made during WEC was that education and networking are the most selected reasons for people to attend meetings. With this knowledge, event planners need to ensure that these elements occur prevalently throughout meetings and ensure that these components are executed effectively. To pique audience interest and generate excitement to attend, communicate clearly that these desired aspects will be included in your meeting.
Consider the Pyramid of Learning
Speaking of education, WEC discussed best practices for adding educational elements into your program. The concept of the Pyramid of Learning was central to this discussion. When giving an audience information that you want them to retain, the Pyramid of Learning should be considered. The strategies for teaching move from the most basic at the bottom to the most engaging at the top; those strategies are remember, understand, apply, analyze, evaluate, and create. While this may seem like basic information, if applied when creating the educational components of your event, you can actually aid your audience in understanding and retaining the important information. For example, you could start an educational session by repeating important information to help them remember and end with them creating something based on that information.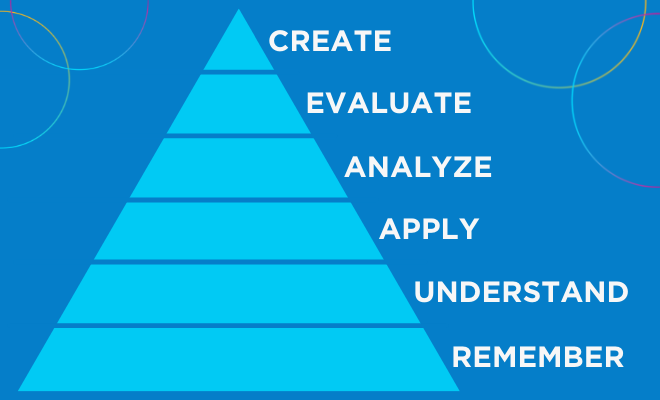 Upgrade from Hybrid 1.0 to 2.0
Before COVID struck and hybrid events were not as common, hybrid events were in a developing form, hybrid 1.0—limited content from an in-person event live streamed to the virtual audience. Nothing was tailored to the virtual guests, and they did not have ways to participate in the event. In other words, the virtual audience was an afterthought. Now, you should upgrade to hybrid 2.0. Make the event one program with two experiences, in which both audiences' experiences are purposeful. The content can be produced live or pre-recorded—the important aspect to keep in mind is that you must consider both attendee types.
Implement the Six "E's" of Engagement
Another concept stressed at WEC was the six "e's" of engagement. The first "e" stands for exploration—you need to understand your audience and who they are. Next is emotion. Determine how guests need/want to hear your message. Energy is the next "e." This one is self-explanatory; you need to build and generate energy to engage attendees. Then there is the important consideration of the environment in which the event is taking place. The "where" should be as engaging as the content. The fifth "e" is engagement—the most important element. Incorporate engaging components to, well, engage or your audience will find distractions. The last "e" is evolution, meaning that each experience needs to evolve to meet the needs of your audience.
Think of the Tech Platform as Your Venue
When looking at virtual and hybrid events, the online portion obviously does not have a traditional venue. That's why you need to think of your technology platform as your venue. We know how important venue is to our live programs, so you need to place that same importance on choosing a virtual event platform. When choosing a platform, be sure to consider scalability and privacy—both are integral to a successful online event.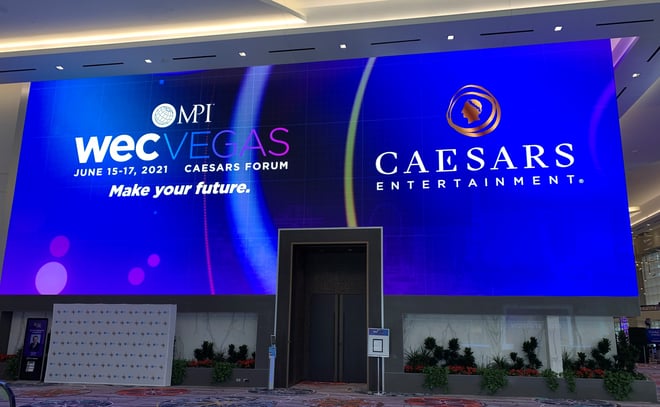 Dedicate Resources for Each Specific Audience Type
As we've stated throughout this blog, considering both audiences is crucial for hybrid events. So you must dedicate resources for each specific attendee type. For example, when creating a virtual event, you want to incorporate elements that are solely for them. One important component is a dedicated host for your virtual audience. This person will engage with people at home while keeping events flowing smoothly for the online audience. Another consideration could be a speaker that caters specifically to those at home.
Hopefully, you find all of these insights as valuable as I did, and I hope these takeaways help guide your next experience planning an event. I loved attending WEC live in Las Vegas, and I can't wait to attend again next year!