A 7-year stint in the wine industry makes choosing wines for events one of my favorite tasks. Wine can be intimidating—it was for me before I started learning what I liked, what I didn't, and why. I'm sharing some tips for choosing wines for your events and, of course, for yourself during these social distancing times!
So, how do you choose the perfect wines for your event? You want to please everyone's palate and fit those very expensive hotel prices in your budget, so just choose the cheapest Chardonnay and Cabernet Sauvignon on the menu, right? Not necessarily! There are thousands of wines in the world, and while many wines could sound obscure and "out there" to the everyday wine drinker, you won't know you like it until you try it.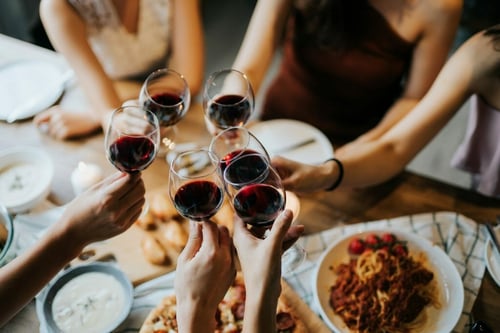 It's a great starting point if you happen to know what your group likes, but what if you don't see what they want on the standard menu? Don't let it stop you from asking for that New Zealand Sauvignon Blanc you know the group likes. The hotel's distributor may have the wine in their portfolio, and the hotel can hopefully order it for the event. If you're unsure of where to start, ask the hotel if you can set up a call with the wine director to get their insights. Wine directors know their menu inside and out; they've chosen each bottle for a specific reason and can help you find a crowd-pleaser that you may not have thought of initially.
Get the chef involved, too! When paired with certain dishes, wines can completely change. The chef certainly doesn't want their food overpowered by that bold Napa Cab, so it's a good idea to find out what the chef likes to pair with the menu you've chosen.
Keep in mind, less expensive wines are not necessarily low quality, and pricey bottles do not equate to the best tasting wines out there. Once you know what your group likes and how adventurous they might be, see what you can get for your budget. If the group really does want a buttery Chardonnay, then go for it! If they are open to new things, change it up. After all, what makes a wine taste great is what your palate likes.
Below are my top picks for what I'm drinking during the pandemic:
Sparkling
Just because we are stuck at home, doesn't mean we can't open some bubbly! Cava is a sparkling wine produced in Spain, and it is always my go-to for reasonably priced, quality sparkling wine. Cava is made using the traditional method for sparkling wine production, similar to Champagne. You may not have heard of the grapes used in Cava—which are Macabeo, Parellada, and Xarel·lo—but don't let that stop you. Some classics to try are Anna de Codorníu, Segura Viudas, and Freixenet. Salud!
White
If you like New Zealand Sauvignon Blanc, ask your local wine shop if they carry Albariño, which is also from Spain. Produced in the Rias Baixas region in the Northwest corner of Spain, many of the wines produced in this region take influence from their proximity to the coast and sea. The wines typically have wonderful acidity with flavors of stone fruit, citrus, melon, and pineapple. This is a great wine to introduce into your rotation to learn about different grapes from other regions of the world. One of my favorites is Paco & Lola; not only does it have a great label, but they carry it at Costco!
Rosé
We are getting into warmer weather (finally!), and even in a pandemic, we can still enjoy Rosé all day, right?! There is a large range of Rosés produced around the world, but one I always have on hand is Whispering Angel, produced in the Provence region of France. Although great in springtime, it's one of my favorites to drink all year round. It's amazing acidity and freshness makes it a great wine to pair with a variety of dishes.
Red
A recent trip of mine to the Willamette Valley in Oregon was cancelled because of COVID-19, so I have been enjoying Pinot Noir from the region. A few of my favorite producers are Ponzi, Adelsheim, and Argyle. Most Willamette Valley Pinot Noirs are very fruit-forward and approachable with flavors of raspberry, red cherries, and a hint of spice. If you haven't tried one before, I encourage you to pick up a bottle from your local wine shop!
Still not sure what wine to choose for your event? While you're at home during COVID-19, use this time to brush up on your wine knowledge! Wineries and breweries alike are hosting virtual tastings to keep the wine and spirits community engaged, and you can get in on the action, too. Check out some options for virtual tastings here. Cheers!