Shoot the confetti and pop the champagne—it's officially Pride Month! At Bishop-McCann, we are so excited that Pride Month is here. As an LGBT-owned business, creating an environment where everyone is accepted is a priority, and that's why one of our company's core values is Inclusion. To celebrate this JOY-filled June, we wanted to share the origins of Pride Month; what our founder, Dan Nilsen, has contributed to the LGBTQ+ community; and why Inclusion is one of our values.

History of Pride Month
We'll start with a quick history lesson. Pride Month began as a
remembrance of the Stonewall Uprising that began June 28,1969. Taking place in New York City, the six-day uprising occurred due to a police raid on the popular gay bar, the Stonewall Inn. When the raid turned violent, the LGBTQ+ community was outraged and started protests that lasted into the next week. In the aftermath, the event became "a symbol of resistance to social and political discrimination that would inspire solidarity among homosexual groups for decades." Because the uprising helped accelerate the gay rights movement, today we are able to celebrate Pride Month and remember those who fought for equality.
Our Founder's Community Impact
For Bishop-McCann, Pride Month is a celebratory reminder that Inclusion is an important component of our core beliefs. Our founder, Dan Nilsen, has contributed to the LGBTQ+ community in many ways, including founding the Mid-America LGBT Chamber of Commerce. After being named the Wells Fargo/National Gay & Lesbian Chamber of Commerce (NGLCC) Business Owner of the Year in 2010, Dan founded the Midwest affiliate in Kansas City. When asked about why he was so passionate about starting the local chamber, Dan explained:
"It took a long time for me to feel completely comfortable coming out to some of our clients. I remember running into the senior leadership team for a very important client of ours at a restaurant way back. I happened to be out for dinner with my partner and two of my gay best friends. As the clients were leaving, they stopped by our the table to say hello, and after they left, I announced to the table that I was convinced we were going to lose the account because they had probably figured out that I was gay. It might be hard for people to believe this, but that's the way my mind was conditioned…always hiding who I really was, especially in business. So, I founded the Mid-America LGBT Chamber of Commerce because I wanted all of our members to live their lives as authentically as possible, either as business owners or emerging leaders of the companies where they worked. Back to the story of wondering if we lost the account? Well, we didn't lose it, and I actually found out a few years later the CEO was in complete support of me and our community being authentic. And his company, Hallmark, ended up being the founding corporate partner of our chamber."

Dan Nilsen, Founder & Chairman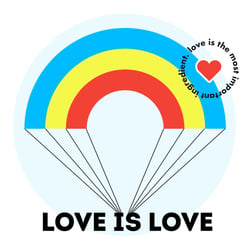 Our Value of Inclusion
Inclusion has always been a part Bishop-McCann's foundation. Our Vice President of Talent & Culture, Melanie Maddock, explains the importance of Inclusion to our company:
"From the inception of Bishop-McCann 24+ years ago, diversity and inclusion have been the most important components of our company's success. We love to celebrate Pride Month within our communities and for our LGBTQ+ associates."

Melanie Maddock, VP of Talent & Culture
Additionally, our founder also understands the importance of diversity when it comes to the workplace:
"When a group comes together to solve problems, diversity lends itself to the best and most creative ideas. Can you imagine what solutions would look like if we were all alike coming from the same perspective? Bottom line…it's critical that EVERYONE understands their differences make them an invaluable part of the team."

Dan Nilsen, Founder & Chairman
We are proud to be an LGBT-owned company and are thankful to have inspiring leaders in our company who support all of our Inclusion efforts. We wish all of you a JOY-filled Pride Month! Be sure to check out our rainbow Instagram for some extra Pride Month fun!