Show Notes
In this episode, we're celebrating International Women's Day with our talent and culture team's Melanie Maddock and Shea Paredes! As a 90% female company in a female-dominated industry, we discuss what this day means to us and how we empower the women at our agency. Topics include:
What International Women's Day means to us
How we promote women's empowerment
Why inclusion is one of our values and how we foster inclusivity
Amazing female accomplishments achieved by Bishop-McCann women
Subscribe to The Events Experience, and create JOY wherever you go! Listen in at Spotify, Apple, and more.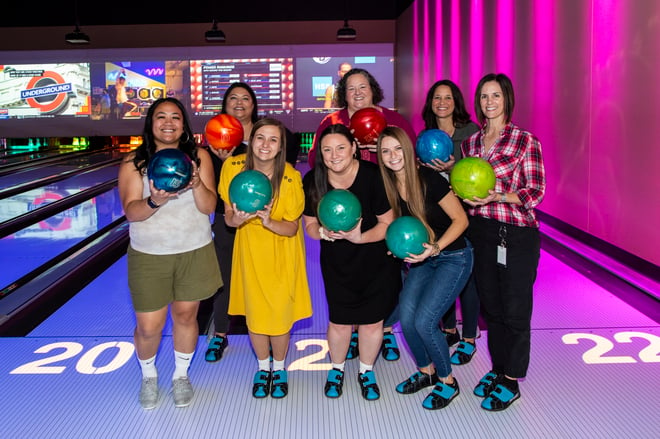 Transcript
Hi, and welcome to The Events Experience, where we take a deep dive into everything event planning. I work for Bishop-McCann, an agency devoted to creating JOY through meetings, incentives, and events for big name brands. On this podcast, myself and our company's experts will discuss all things events, so keep listening to hear all about the latest tips and trends for virtual, live, and hybrid events.
Hi, everybody! Today, we're going to be celebrating International Women's Day on The Events Experience. Joining me are two incredible women on the talent and culture team, Melanie Maddock, Vice President of Talent and Culture, and Shea Paredes, Director of Casting and Culture. Thank you both for being here today!
Melanie: Any time.
Shea: Yeah.
To kick this off, I know that the majority of our company is made up of women, but what's the actual percentage breakdown of women working at Bishop-McCann?
Shea: Yeah, so this fluctuates a bit as we continue to hire, but we are about 90% women at Bishop-McCann.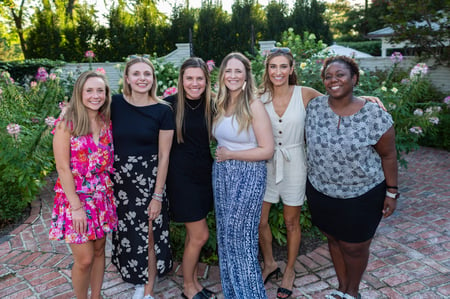 Yeah, wow. So knowing that we have that large percentage of women in our work family, Mel, what does International Women's Day mean for us at Bishop-McCann?
Melanie: Well, first I'd like to share that International Women's Day held their first gathering in 1911, and they have a sevenfold mission around forging change, women at work, creativity, technology, empowerment, health, and sports. Also, International Women's Day is held on March 8th this year. It's a global day celebrating social, economic, cultural, and political achievements of women. The day also marks a call to action for accelerating women's equality. So at Bishop-McCann, being in a female-dominated industry and company, I think we join in celebrating these values with International Women's Day.
Like you just said, obviously, we are working in an industry that is female dominated, but what do we (as a company) do to foster women's empowerment?
Melanie: Well, there is a few things that come to mind. First, we foster a culture of inclusion, curiosity, collaboration, and impact. Those are our company values, and we hire women who value those things, too. We believe those values drive confidence and empowerment within our organization. Second, we work in a forgiveness culture versus a permission culture. That is, we encourage our associates to share their opinions, to challenge the status quo, and to find better ways of doing things and bring their colleagues along on the journey with them. We also strive to build a diverse team, so that our people bring unique perspectives.
Melanie: We've always extended flexible working arrangements and benefits like fully paid baby leave to accommodate our associates' individual needs. And one of the reasons we offer unlimited PTO (paid time off) is so that people can observe days that are culturally or otherwise significant to them. Some of our federal holidays don't really observe the full span. And lastly, I'd say that we seek to empower our associates and give them the freedom and resources to succeed and grow their careers through training, development, and mentorship. I think working in an open-door environment that's built on trust, fairness, and authenticity makes it a great place for women to feel empowered in their careers at Bishop-McCann.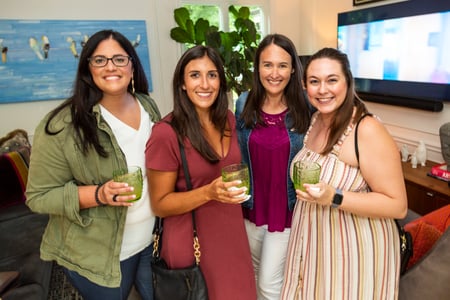 For sure, I love that about us. One of our core values is inclusion. Can you speak a little bit as to why this is a pillar of our company and how we foster inclusivity?
Melanie: Absolutely. Oftentimes, inclusion is tied to diversity because it's not only important that you have a diverse work environment, but that everyone feels like they have a place and that they're included. While we strive to have a representation of diverse associates (and that is diversity in age, gender, sexual orientation, ethnicity, ability, and so forth), we work just as hard to ensure that our people feel included. Inclusion is about being accepted for who you are. It's about feeling heard and being appreciated for having a different point of view. As with all of our values, they're embedded in all of our work practices. We hire people who value inclusion. We expect leaders to set a standard of inclusion, and we actually reward and recognize inclusion in action at our company.
Right. In addition to inclusion being important at our agency, another huge part of our culture is recognition. We love celebrating our team. So regarding that topic, what are some amazing female accomplishments that come to your mind when you think about the talented women who work at Bishop-McCann?
Shea: Yeah, I'm really proud to work among some talented women in the industry at Bishop-McCann. A couple of achievements that come to mind - Cathy Mariano, our head of pharma client group, was listed on Connect and Biz Bash 40 Under 40; Taylor Abbote, an attendee experience manager, received PCMA's 20 in Their Twenties award; and Melissa Patruno, an executive producer, was named a Meeting Pro to Watch by Convention South Magazine.
Melanie: And actually, I would add that we encourage, support, and celebrate other achievements, Brenna. Like a lot of our associates have achieved their certifications or their CMPs, their CMMs, their CISs, their HMCCs. It's actually inspiring to work with women who invest in themselves and are so passionate about the industry and the work they do. I'd also add that aside from our ongoing recognition (which occurs in our company town hall meetings and on our internal recognition platform), we also reward Pinnacle Awards for amazing achievements to our associates, too. These things help us ensure that we're keeping celebration and recognition as a primary practice.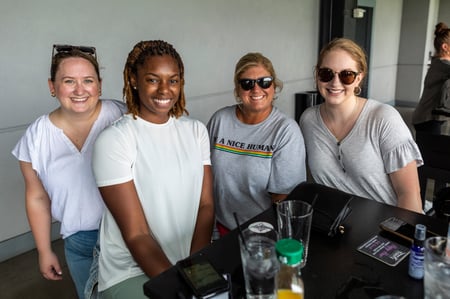 Yes, recognition is so important, so it's awesome that we make sure to prioritize that. Finally, knowing that you both are integral to our company with your roles in talent and culture - Shea, I'm going to ask you first - what is it like working for a company that supports women and helping to shape that culture?
Shea: Yeah, so I've been in this industry for over 20 years and see how much opportunity there is for women. At Bishop-McCann, women are empowered to do amazing work for our clients. This definitely isn't the case in all industries, so I'm thankful to be in an environment where I can help provide these opportunities to women.
And Mel, what does it mean for you?
Melanie: Well, as I mentioned earlier, I love working in an environment where I'm surrounded by people and women who are passionate about the work they do. I love that I get to play a role in empowering those women in their careers through people-centered practices and just connecting with our people. And Brenna, this might seem off topic, but I wanted to share in light of International Women's Day and on a personal level, I've been thinking about my grandmother. She's in her nineties, and she had limited options when it came to having a career. My mom also experienced this to some extent. I think of women globally who struggle to have some of the basic freedoms I take for granted, and I feel so grateful that I live in a time and in a place that women don't have to choose career over family and actually that women have unlimited potential to build a career of their choosing. I think that's really massive. I have gratitude that I get to spend my career at Bishop-McCann where I feel valued, challenged, and empowered.
Yes, I wholeheartedly agree. And I love what you mentioned about your grandmother. It is really amazing to see the change from generation to generation and to watch that change continue even now. Well, thank you both so much for joining to talk about our culture and how we are able to empower women, and happy International Women's Day!
Melanie: Thanks, Brenna!
Shea: Thanks, Brenna!
Thanks for tuning in to this episode of The Events Experience. Don't forget to subscribe to our podcast, and create JOY wherever you go!