With the roll out of the coronavirus vaccine and 2020 finally coming to an end, many people are feeling more optimistic than ever, and much of that optimism is geared toward the event industry's recovery. And while everyone is ready for the return to live events, one thing 2020 has taught us is that virtual events are here to stay. The role they play in our industry simply cannot be filled by any other method. But many still have questions regarding virtual meetings, such as what their impact is, how they differ from a standard Zoom meeting, and if they will become a replacement for live events. That's why we put together the virtual event statistics below to help you get a better understanding of virtual programs and their impact.
What impact have virtual events had on the industry?
Virtual meetings were not invented for the pandemic, but 2020 did contribute to the rise in the need. It's important to note that "in 2020, the number of organizations planning a virtual event doubled" (Wild Apricot). Surprisingly, though this growth started due to safety concerns, it is not expected to slow down. Even though we know that in-person events will eventually return, one report stated that "the global virtual events market size is expected to be valued at $774 billion by 2030" (Markets Insider). Obviously, there is revenue to be generated in this market, and that's why it's so important for planners to have a solid understanding of these kinds of events.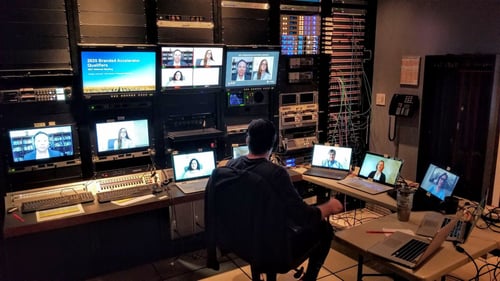 What are the advantages of going virtual?
When it comes to the advantages of virtual events, "more than 80% of marketers agree that greater audience reach is the most positive effect they've experienced from their shift to virtual" (Bizzabo). This is not a shocking statistic when considering a virtual meeting's lack of geographic boundaries and the ability for the material to be viewed on-demand, meaning participants can watch even if the original event conflicted with their schedule. Another benefit is the reduced cost—"84% of organizations who had previously run a virtual event in 2020 reported that they spent less on virtual events than in-person events" (Wild Apricot). With less money invested and a huge potential market, businesses are scrambling to identify the necessary changes to the live format that will prove effective for virtual meetings. In terms of hosting a successful virtual event, one statistics states that "49% of marketers say audience engagement is the biggest contributing factor" (Markletic). But engaging an online audience is not as straightforward as engaging a live one.
What is the biggest drawback of virtual events?
Unfortunately, many event organizations have spent little time researching best practices for virtual programs, and when hit by the COVID crisis, they simply began delivering events that differed little from a standard business meeting. Audiences were not impressed. Facing a myriad of distractions in the home, many attendees simply tuned out, and clients were left disillusioned and disappointed. When surveyed, "B2B event marketers [said] audience engagement is the largest challenge of virtual events" (Avalon). Making a switch to virtual cannot be accomplished by simply purchasing a platform and recording speakers. Zoom fatigue is real, and employees do not appreciate one more "meeting" in their lives. In fact, "organizations that didn't try to engage virtual event attendees were 150% more likely to be unsuccessful" (Wild Apricot). Taking the time to ensure your virtual program is engaging is the most important part of planning your event. Delivering events that have a broadcast feel rather than a meeting atmosphere with eye-catching visuals and animated speakers will elevate an event to a level that will engage even your most distracted audience member.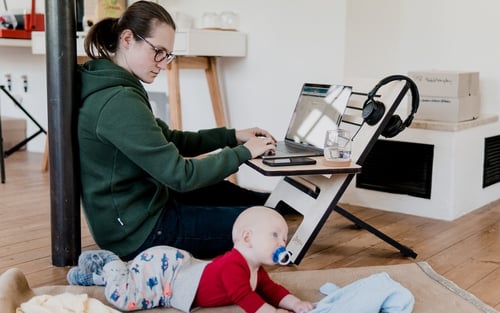 In addition to production changes, time becomes a major factor in a virtual event because "the average virtual attendee watches only 68% of a virtual session that is 20 minutes or longer" (Bizzabo). Though a 20-minute meeting at a live event is not cost effective or expected, the attention span of a virtual attendee is much different. Keeping in mind the length and structure of your virtual program is a must to keep attendees watching. One of the biggest lessons learned by planners new to virtual was that the two meeting types cannot be treated similarly. They are vastly different. In fact, "52.5% of event marketers are challenged by the logistics of virtual events and believe [they] require a much different set of skills and resources" than live events (Bizzabo). Learning the best practices of the virtual world is a must to produce engaging, thoughtful content.
Are virtual events going to replace live?
Though virtual programs are incredibly important currently and are helping to keep people connected during this global pandemic, the truth of the matter is that virtual events will never replace live events. When surveyed, "96% of event professionals do not believe virtual events will replace in-person events" (Bizzabo). Additionally, one statistic stated that "85% of leadership (senior managers, executives, and board members) believe in-person events are essential to their company's success" (Bizzabo). These statistics make it clear that live events are an integral part of our industry. This necessary component to the business world is not going away, and most believe the return of live events is coming sooner rather than later. Many companies are already thinking about the return to live*, and "63% plan to resume in-person meetings in 2021" (Bizzabo). However, our live events will now have a common companion because the virtual event is here to stay.